I've found some mixed reviews about whether Hinglish should have its own script or be used with english letters etc -
1) HINGLISH - A COMBINATION SCRIPT
this particluar website encourages its users to ask questions and receive answers in Hinglish.
The words in hindi appear in the devnagri script and those in English appear in latin
http://sawaal.ibibo.com/general-knowledge/-ibibo--hinglish-----service--enjoy---------hinglish----173394.html
cons: I think this is difficult to understand and use because
1) switching between languages which work on two different systems is hard to read quickly, It is easier to read in one language throughout a sentence.
2) English is made up of only 26 letters - vowels and consonents included
- this makes it an easy language to pick up and adapt into
3) Hindi is made up of 33 consonents and 12 vowels, and on use any combination of these can be used on the fly.
thereby there can be 2, 3, or 4 characters combined to make one single character in use.
This makes the language difficult to pick up in terms of reading and writing. And is harder to adapt to using a english QWERTY keyboard
2) LATIN ALPHABET USED TO TYPE HINDI WORDS
- this is the most popular choice on blogs, chat rooms, written media-
ex:
"Hum Aaj bhi kyon skin colour ko itna importance dete hain"


1) Most education in India is conducted in English.
2) it is easy to pick up
3) media uses English words so frequently that it is easy to plug into sentences
4) It is the most easily to use online
5) the keyboard a ready input tool
6) Hindi vocabulary, spelling and grammer is weak so today's youth, with an English education, can't necessarily write full sentences in Hindi, therefore they find it easier to communicate in English but infused with Hindi.
this particular blog maintains the opinion that people can type in Hinglish as is, and they don't need a new script or the Hindi script to type in Hinglish.
http://lifeatcass.blogspot.com/2009/06/facebooks-strategy-misguided-by.html
"...Orkut does allow comments in Hindi (and other Indian languages) as it has support for Unicode (as does Facebook). But now, Facebook thinks it has the Ace of Spades because it has now translated its entire website into Hindi (and five other Indian languages).
Reality check Facebook - Aditi Sharma says the right thing.
"We all write in 'Hinglish' anyway, so I don't need to have Hindi typing,"

says Aditi Sharma, 20, who studies in Mumbai but uses Orkut to stay in touch with high school friends. ("Hinglish" is what comes up when you type out Hindi phonetically with English characters, throwing in words from both languages for ease; for instance, "How are you?" becomes "Kaise ho?" )
3) HINDI CHARACTERS BY TYPING ON A ENGLISH KEYBOARD


a software that you type in English but it appears in Hindi automatically.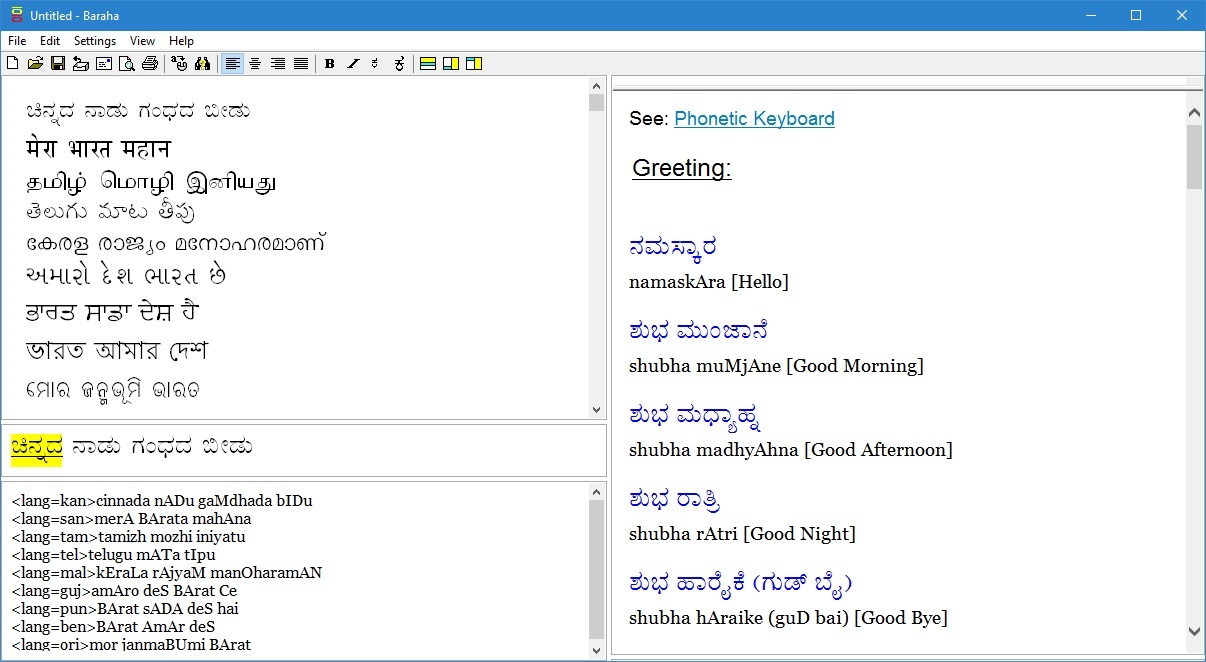 Hinglish - Thanks to Baraha!
"Discovered a really cool software some time back to help me type in Hindi.
Problem was that I had lost touch with writing in the actual Hindi script (Devanagari) and plus there are all the issues related to typing a different language using the English keyboard. All of these were solved by using Baraha - the software allows you to type Hindi in English. To clarify, you write the word as best approximated by the English text and the software keep converting what you are writing to Hindi as you write. So for e.g when you write
something like "Namaste" you actually see the Hindi version of the word - in real time. "

http://blogs.msdn.com/nihitk/archive/2004/05/23/140090.aspx

http://www.baraha.com/
4) HINGLISH ON MOBILE PHONES AND PDA, USING ADVANCED T9 TECHNOLOGY
http://www.ciol.com/technology/mobility/news-reports/nuance-delivers-t9-text-input-software-in-hinglish/101207102050/0/
"NEW DELHI, INDIA: Responding to a population of over 350 million 'Hinglish' (mixture of Hindi and English) speakers in the Indian subcontinent, Nuance Communications Inc.

,

a leading supplier of speech, imaging solutions and text input solutions, announced the availability of its popular T9 Text Input software in Hinglish.

Nuance's T9 Hinglish software offers advanced alphabetic input prediction in Hinglish to help mobile phone and PDA users to quickly write SMS text messages, mobile instant messages and wireless e-mails in a language popular with India's youth.
..
making it easier for users to use Hinglish words like
chai
,
desi
,
jungli
etc., while composing SMSes."

new features include -
1) word completion function
2) Next word prediction